"What a great summer we're having this spring!".  
That pretty well sums up the Whistler weather we've enjoyed in May, and now heading into to June (or June-uary as it can be some years), it is already feeling a lot like summer in the valley. Fresh green on the trees, mountain bike trails are clear, the Bike Park is open, the Village Gondola and Peak to Peak running for sightseeing… and the only big reminder of winters abundant snow is the spectacular hike to (or from) the Peak Chair through the snow walls.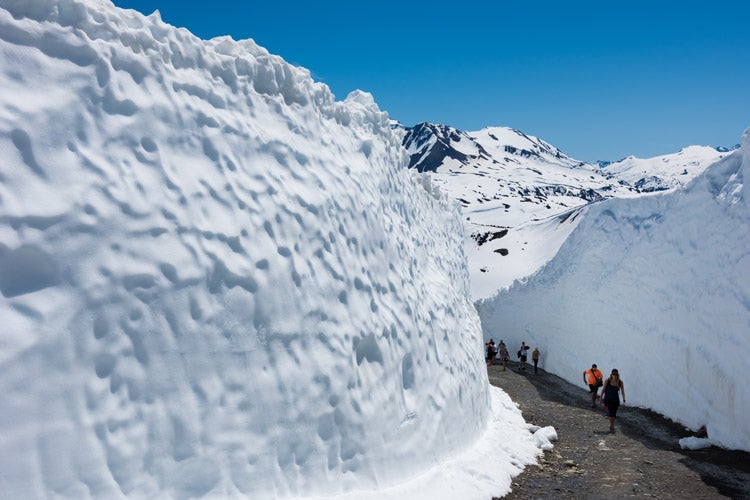 Whistler Resort has once again raised the bar and lined up a fantastic mix of events and free outdoor concerts. Events can be viewed here:
https://www.whistler.com/summer/
And of course, there are a myriad of other activities around the valley – from zip lining to ATV adventures, bungy jumping to jetboating, paddle boarding to rafting, golfing to skateboarding. An extensive list that continues to grow each year! 
Then, to following the outdoor adventures a lengthy list of evening and indoor activities - fantastic restaurants and lounges, a movie theater, spas, swimming pools, and if you still have some energy, several night clubs to choose from and dance til you drop! 
Living here for over 35 years has afforded me with a 'locals' perspective. At times I think I have 'done it all' and want to run for the hills for some solitude. But then friends will come to town and I can't help but want to show off what this incredible mountain town has to offer. I will usually join them for a few of the above activities, take them to a favorite restaurant, slide them into a night club on the VIP list… and every time find myself giddy from their gratitude, knowing I was able to 'show them the goods' of Whistler.
'How can we live this life?' they ask.
Well, it's not that tough really, there are several options. From purchasing time shares to investment income properties (which you can use if desired), a house with a suite to help offset costs or, if your work can be done remotely, make the lifestyle change and move here like so many have done already! 
Many experts advise, 'You should break up your work day with some other activities and exercise'.  
So, imagine this…  it's 11:00am and the sun is warming things up outside, but not too hot yet. The kids are off at school, you've already put in a few hours of work and are feeling the morning dragging on... then a friend calls (or maybe it's just a voice in your head) - "Let's ride!"
You throw on your bike shorts and shoes, step out the door with your mountain bike, and within a few minutes are on a new bike trail, gliding through the forest. Twenty minutes later, just as the blood gets pumping, you come to a lake for a breather. You take a seat on a bench by the shoreline for some idle chat about the morning, then a moment of silence in conversation comes. You notice reflecting off the glassy surface is Whistler Peak, still blanketed with snow, contrasted against the clear blue sky. You close your eyes, take a deep breath of fresh mountain air and feel the calming effect of the wilderness as the birds chirp and squirrels chatter in the forest. Now exhale. Another 20-minute ride back to the house and you are back at work, barely gone an hour… your clients won't even suspect you stepped out. And the productivity of your afternoon work is almost two-fold from normal.  
Ahh. That's coast mountain living! Contact me if you'd like help making this reality! 
Direct Line:  
604.935.9172
36-4314 Main Street, Whistler BC V0N 1B4
TF
:
 1.877.747.1333 | 
F:
 604.932.1878